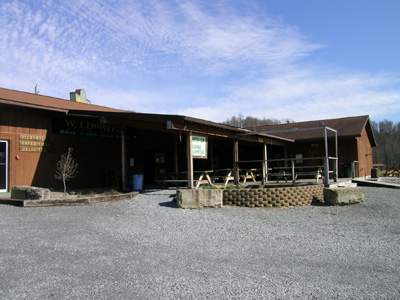 Annual Gauley Trip
Trip Details
Table of Contents
1 Trip Overview
2 Synopsis
2.1 Lodging
2.2 Transport
2.3 Food
2.4 Gear
2.5 Bon-fire
3 The Business Side
4 Summary & Liability Disclaimer

Click here for driving instructions from Northern Virginia
See who else has signed up for this Gauley Whitewater Trip by clicking here.
Register for Gauley Whitewater Trip by clicking on "Submit Query" button following.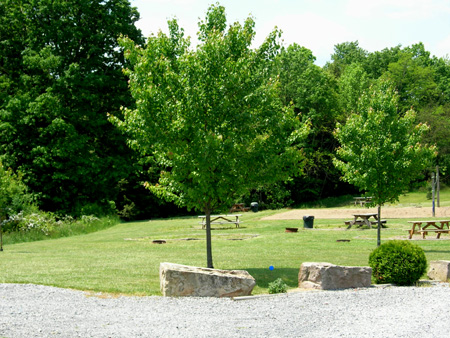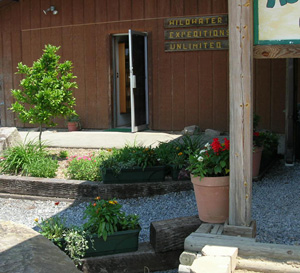 ---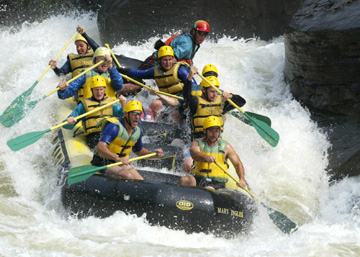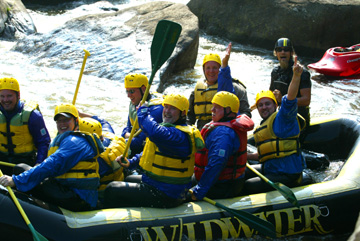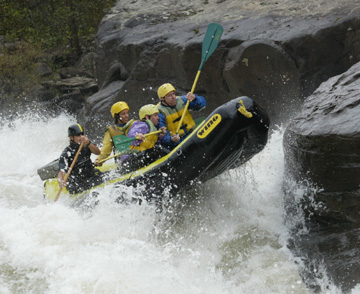 1. Trip Overview Back to Contents
The time is nigh to plan the next "Annual Gauley River raft trip.
What: THE UPPER GAULEY RIVER!
Where: Summersville, West Virginia (5 hours south-west of here).
When: September 15, 2007 at 8:55 AM -- but plan to stay the weekend. This is the second weekend of Gauleyfest.
Why: Adventure.
Price per person: see table below. In order to lock-in our campsite for all the members of our group, please sign up early. Because other groups also want to reserve the earlier weeks of Gaulifest, registration (and payment) earlier versus later is encouraged. You will pay less by signing up early. This weekend sells out, so sign up now before availability becomes limited.
| | | |
| --- | --- | --- |
| | Regular Adventure Trip | High Adventure Trip |
| Payment Received | Price | Price |
| Prior to 15 Jul 2007 | 158.00 US$ | 202.00 US$ |
| Prior to 15 Aug 2007 | 163.00 US$ | 207.00 US$ |
| After 15 Aug 2007 | 168.00 US$ | 212.00 US$ |
The price per person for the "Regular Adventure" includes rafting, breakfast on Saturday morning, lunch on the river, camping, wetsuit, spray jacket, taxes, West Virginia river fee.

The price per person for the "High Adventure" (in a four-person raft) includes all the Regular Adventure trip amenities. A minimum of three (3) High Adventure participants are needed for each High Adventure raft. You MUST be an experienced white water rafter in good physical condition to go on the High Adventure trip.

Those of who you have particpated in previous years can attest to the excellence of this river experience. But for the uninitiated among you, the Gauley is considered by many to be one of the premier rafting trips in the U.S. and enthusiasts come from literally thousands of miles to experience it. Because it only flows when water is released from the Summersville Dam, which only occurs for six weekends in September and October, this time of year is affectionately referred to by those in the whitewater community as "Gauley Season". The trip is a FULL day and features some great rapids, including three of the East's best: "Pillow Rock", "Lost Paddle", and "Sweet's Falls". The weather during Gauley season is generally great with warm days, cool nights, and the leaves should be in peak color.

The area has many other activities as well, so you can plan on a full weekend even if you aren't up for rafting. There's hiking, mountainbiking, rock-climbing, and more bridge-swinging. The New River Gorge Bridge, the world's(?) highest single span bridge is also there, suspended 1,000 feet over the water. (The 1993 GMC truck commercial that had a truck bungee jump off a bridge was done on this bridge.)

As always, I'm encouraging everyone who's up for it to camp. There is a great group area and the fees are included in your fare. It's the most fun and it makes for a short crawl to your bag after the bon-fire! If you're concerned about undue hardships, you'll be camping close to your car and there are HOT showers and bathrooms on the site (real bathrooms, not 'port-a-potties'!). The outfitter has tents to rent, if you need to go that route. For the overly urban, a list of local hotels and B&Bs can be provided (q.v. the Wildwater website). Wildwater also has rustic bunk cabins which are the perfect option for those who don't want to set up a tent in the rain, middle of the night, etc. The cabins sleep 2-8 people and have ample space for your gear. There are currently two (2) cabins available so make sure you book your cabin early. The cabins feature electricity, lights & a ceiling fan. Mattresses are also provided, but don't forget your bedding (sleeping bag, pillow, etc.). The cabins are located within easy walking distance of our bath house and restroom facilites.

2.2 Transport Back to Contents

We usually drive down separately.

Breakfast before the river and lunch on the river are included. Saturday night we'll do the big bon-fire / jamboree / beer-fest, so bring food to cook on the campfire and plenty of beer, booze, and soda! We will be about 5 minutes from a store if you wish to buy your supplies there. All other meals will be up to you. For an additional fee, Wildwater can also provide a steak dinner on Saturday night.

If it's like the last three years, the weather is SPECTACULAR!! The days are warm and the nights are just brisk enough to need a sweater, a bon-fire, and a 'loved-one' (in lieu of a 'loved-one', a 'liked-one' will do). The most important thing to remember is do NOT wear cotton on the river as cotton does not insulate when wet. Polypro, Capalene, Polar Fleece, and even good old wool are highly superior to cotton. Suggested specific gear requirements follow:

TENT

TENT POLES

TENT GROUND CLOTH

SLEEPING BAGS

AIR MATTRESSES

PUMP AND HOSE

COLEMAN STOVE

COFFEE POT

GRATE

COLEMAN LANTERN

AWNING

CHARCOAL

LIGHTER FLUID

LIGHTER

HATCHET

BINOCS

FOUL WEATHER GEAR

ROPE

STRING

KNIFE

BUG SPRAY

TOWELS

PILLOWS

COOLER

CAMERA

MAPS/BROCHURES

WATER JUG

CAMP CHAIRS

TOILET PAPER

PAPER TOWELS

WATERPROOF CAMERA

SCUBA BOOTS AND GLOVES

FRYING PAN

SMALL COOLER

EXTRA PROPANE

SAW

FLASHLIGHTS

KNIFE

THERMOS FOR COFFEE

ICE BOX FOOD

PAPER PLATES

PLASTIC UTENSILS

POT HOLDER

SPATULA

SUGAR

SALT AND PEPPER

EXTRA ZIPLOCK BAGS

TRASH BAGS

COFFEE CUPS

COOKING SPATULA, FORK AND SPOON

CREAMER

TRASH BAGS

ICE

2.5 The Bon-fire Back to Contents

It's Saturday night, you are fully oxygenated from a day in the the out-of-doors, you are still coasting on the endorfins and adrenaline that were produced when you rafted through the afternoon's Class III, IV, and V rapids, and you're stomach has just enjoyed a dinner cooked over an open fire. Spend the rest of the evening around the bon-fire. The outfitter provides the wood. It doesn't get any better than this!

3. The Business Side Back to Contents

This may be short notice for some of you. I will need FULL PAYMENT as soon as you want to go in order to reserve your slot (i.e., I will add people on a first-come, first-served, space-available basis). After registering for the trip you will be sent an email with payment instructions. Payment electronically using PayPal is encouraged. If you pay by check or money order, please make your check(s) payable to Gary MacFadden, and mail to 6707 Brown's Pond Landing, Fairfax Station, VA 22039-1865.

Also Note!!!: Your payment is NON-REFUNDABLE. If someone else agrees to take your place, your money will be refunded.

4. Summary and Liability Disclaimer Back to Contents

This is TRULY a trip not to be missed. So make plans NOW to join us. Non-rafters are welcome, too. Please call if you have questions.

Oh, and one final thing. YOU will be responsible for your own health and well-being. You will have to sign a waiver to this effect with the outfitter before we raft.

LET'S MAKE THIS ANOTHER GREAT GAULEY WEEKEND!!!

hyperlink to Wildwater web-site

Gary & Kitty MacFadden or please click here to send an email.


703-250-4074 (Home)

703-932-7722 (Gary Cell)